Trial mode for Maestro Flash Cards on Windows Phone 8/8.1
To allow you to try Maestro Flash Cards for Windows Phone 8, we have just enabled a Trial Mode in the app, which allows you to test all the features with a single Flash Card set.
To unlock all other Flash Card sets (and any future features we introduce in the future), you will have to make a one-time purchase.
The app update (version 1.1) is available now!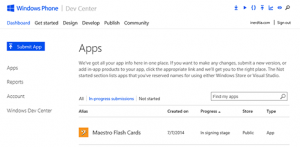 – The INERDTIA dev team